mushrooms in Italian olive oil
BRUSPOL
Mushrooms in Italy are different mushrooms in olive oil with a traditional Italian recipe.
These mushrooms are considered as a national delicacy of our southern neighbors.


Mushrooms are first marinated in vinegar and then filtered and poured with the original Italian olive oil. Olive oil allows the product to be prolonged. Mushrooms oiled with olive oil will be an interesting variation in our winter supplies, and the taste will delight many connoisseurs of the forest.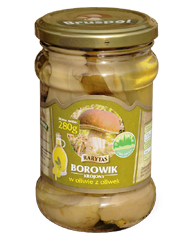 Boletus cut in olive oil 280g