Marinated mushrooms
BRUSPOL
Marinating mushrooms allows you to store the product for a long time to eat. Most often for marinating selected small mushrooms: bovine boletes, king boletus, etc.
Marinated mushrooms are the most common addition to lunches and sandwiches and salads, eaten mostly in the winter, due to lack of access to fresh fruits and vegetables.
Mushrooms have a number of valuable nutritional components. They contain vitamins B1, B2, B3, B5, as well as selenium, copper, potassium, phosphorus, zinc, manganese, choline, protein, folates. . Mushrooms are very low in calories, yet are difficult to digest, therefore they are not recommended for small children and older people.

Mushrooms are appreciated for their flavour qualities, yet one has to remember about their health promoting properties such as: balancing the activity of white blood cells, supporting the immunological system at arthritis, tumours, cardiovascular diseases, preventing inflammatory states. Marinating mushrooms prolongs their suitability for consumption for many months.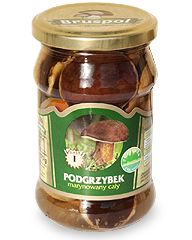 bay boletus marinated 280g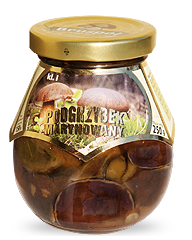 bay boletus marinated 250g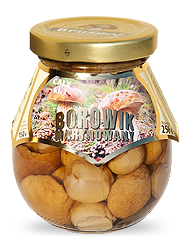 king boletus marinated 250g